Denture Repairs & Relines
Don't go a day without your dentures
with our quick and convenient same day denture repairs
Natural teeth and denture teeth alike both require consistent care. This includes implementing a daily cleaning and maintenance routine. Even when they are properly cared for, dentures may still require occasional repairs. When you need denture repairs in Brampton, we are here to help! Whether you have a missing tooth or a cracked denture base, many of these issues are relatively quick to repair. 
At Denture Clinic Edyta Foltyn DD, we provide same day denture repair in Brampton for a number of denture issues. Call our clinic today so we can come up with a solution for you.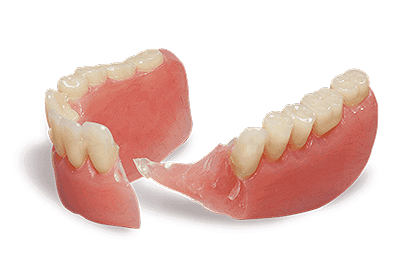 Denture Relines
As your jaw bone starts to shrink over time, your dentures may begin to fit differently. This might not be noticeable at first, but eventually this can mean your dentures are loose or uncomfortable. In many cases, a quick denture reline is all it takes to return them to their optimal fit.
Most patients have their dentures relined every 1.5-3 years. During this process, a denturist takes an impression of your mouth. Then, they remove a layer of your denture and use the impression to create a new acrylic base where the removed layer once was. When you visit Denture Clinic Edyta Foltyn DD, we take impressions before creating a new surface in our denture lab and then return your relined dentures to you at the end of the day.
So, if your denture feels loose or uncomfortable, don't wait to have it assessed. Repairing or relining your denture can help restore the fit and function of your denture today.
Watch for these signs that it could be time for a denture reline: 
Your dentures feel loose

Food debris collects beneath your denture

You have sore gums

Bubbles of air feel trapped under your denture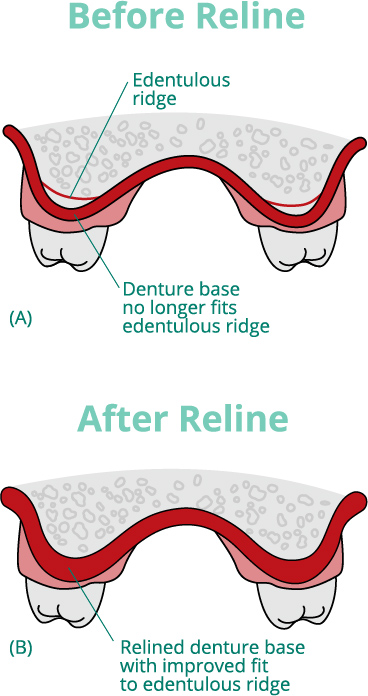 How much does denture repair cost?
The price of your denture repair varies based on how extensive the damage is, whether reinforcement is necessary, how many teeth need to be replaced, and if moulds/impressions are required. 
What is a denture reline?
Denture relines involve adding a new base material to your denture. This adjusts the fit of the denture so it is no longer loose or uncomfortable. When your dental tissues change, this can be due to weight loss, illness, medication, and other circumstances. 
Relining your denture does not change how it looks, but it is meant to improve the fit and feel instead.
How long does it take to reline a denture?
Most denture relines can be done in one day.
How much does a reline cost?
This will depend on whether you require just a new acrylic layer to refit your denture or if the whole denture base needs to be replaced. Visit us for a no-obligation consultation to find out the cost of your denture reline.
How long does a soft reline last?
Soft relines may not last as long as hard liners due to their porous nature. They can help absorb shock while you chew to keep your dentures comfortable, and they can be applied to new or old dentures. 
Denture Clinic Edyta Foltyn DD
If your dentures need repair or feel loose and uncomfortable, don't wait to have it assessed. Contact us today and we'll take care of you right away.
We are proud to serve the Brampton area as experts in the latest denture treatments, procedures, techniques, and quality products.