Fixed/Non Removable Teeth on Implants
Permanent Denture Implants
Fixed dentures on implants are the comfortable, reliable denture solution many of our patients have been looking for.
Conventional dentures don't work for every patient because of significant bone or tooth loss. In some cases, getting permanent dentures on implants is a viable option if they have enough remaining bone structure to support the implants.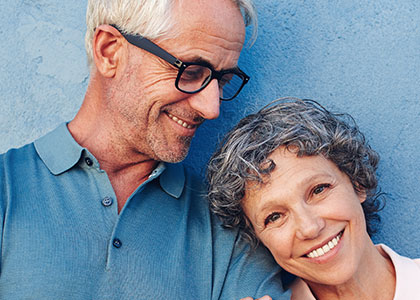 Fixed dentures on implants require the placement of dental implants into the jawbone. Using titanium implants, they eventually fuse with the living bone tissue during a process known as osseointegration. Once this fusion is complete, the implants are a fixed part of your jawbone. 
So, whether you are missing an entire arch of teeth or if your remaining teeth are too unhealthy to save, replacing these teeth with permanent dentures on implants could be the right option for you. 
What are the benefits of fixed dentures on implants?
They feel and function similar natural teeth

They stay in place when you eat or talk

They could help prevent further bone loss in your jaw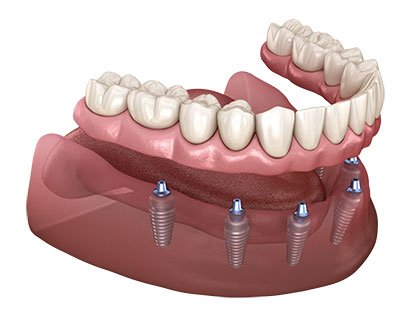 How much do permanent dentures cost?
Permanent dentures on implants vary in cost depending on many factors. This can include the surgical procedures required and how many implants are needed.
Book a free, no-obligation consultation with Edyta Foltyn to learn more.
Can you get dental implants if you have had dentures for years?
This is possible for most patients if their jawbone and other oral tissues are healthy enough for implants. If they aren't strong enough for implants, a bone graft might be a viable option for improving jawbone density.
How long will my fixed dentures last?
Your denturist will give you plenty of tips to help your permanent dentures on implants last as long as possible. For most patients, this is at least five years, but it varies depending on anatomical changes and how well the patient cares for their dentures.
Denture Clinic Edyta Foltyn DD
Contact us today to find out if replacing your teeth with permanent dentures on implants could be the right option for you. 
We are proud to serve the Brampton area as experts in the latest denture treatments, procedures, techniques, and quality products.