Complete your smile with full dentures
If you are ready to complete your smile, improve your dental health, and boost your confidence, full dentures could be the solution you have been waiting for. When a trusted Brampton denturist like Edyta Foltyn creates a custom-fit complete denture just for you, you can have dentures that look and feel just like natural teeth. 
To ensure your dentures are comfortable and that they work well, Edyta uses premium material, precise measurements, and custom moulds. For a low maintenance and natural looking option, consider complete dentures! They are made to fit your precise dental tissues and an oral adhesive or suction will hold them in place. These can provide a similar solution to implant overdentures at a fraction of the cost.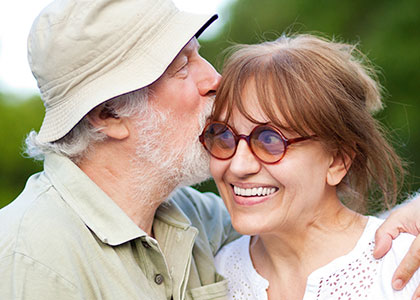 Tips
for using complete dentures
Chew carefully and slowly before swallowing:

Be sure to chew your food carefully before you swallow because this helps you avoid choking. It's also helpful to distribute your food evenly on both sides of your mouth while you chew to keep your dentures more stable.

Take small bites:

Cut your food into little pieces or take small bites. This is especially important when you're eating foods that are more difficult to chew. 

Keep a drink nearby:

Avoid dry mouth by keeping a beverage handy to keep your food soft and your mouth hydrated.

Stay clear of sticky or gummy foods: Some foods are bound to be difficult to eat with dentures. Some examples are sticky foods like taffy or caramel. Stay away from these foods if you can as they can adhere to your chewing teeth and dislodge your dentures.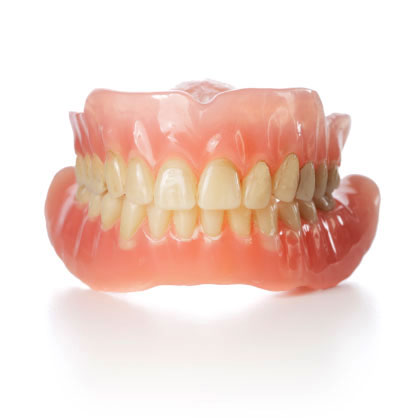 How long do dentures last?
Due to changes in oral anatomy, we recommended that a patient gets new dentures every five years. Taking good care of your dentures and your remaining oral tissues is important to help them last as long as possible.
Having your dentures assessed on a regular basis is important to ensure they are working well and fitting properly.
What does getting dentures involve?
For some patients, dentures can involve only a few appointments. Other patients might need several appointments. These appointments could be completed in as few as three weeks, or up to several weeks for some patients. 
How can I determine denture quality?
A high-quality denture, known as a Precision Denture, is one that's made with premium materials and by a skilled denturist. It also means they look like real teeth and fit comfortably. 
How much are full dentures?
Denture prices will vary depending on the material used, the amount of teeth on the denture, and other factors. Call us for a no-obligation consultation to get an estimate for your unique case. 
Can you get dentures that look like real teeth?
When you work with an experienced denturist like Edyta Foltyn, you can be sure you're getting high-quality, comfortable dentures that look and function like real teeth as much as possible. Please note, denture teeth are artifical so they will never be the exact same as natural teeth.
Denture Clinic Edyta Foltyn DD
Are you curious to hear if you are a good candidate for complete dentures? Give us a call today. We will cover all of your options, as well as the expected costs and expectations with full dentures.
We are proud to serve the Brampton area as experts in the latest denture treatments, procedures, techniques, and quality products.