We provide a Full range of Denture services
At our denture clinic in Brampton, we know that proper fitting, comfortable dentures can be life-changing. We also understand that for many patients, getting to a denture clinic can be challenging. Edyta Foltyn DD is pleased to visit you in your home, hospital, or care facility to ensure you are able to get the high-quality denture care you deserve.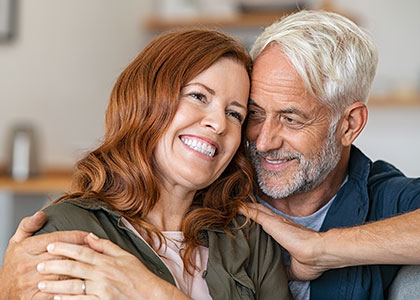 Regardless of your oral health needs and concerns, including rotted roots, damaged teeth, or dental pain, dentures can provide an effective solution. We look forward to providing you with a solution to any of your concerns with comfortable, custom, and high-quality dentures.
We offer PRECISION DENTURES – made from premium material by a skilled denturist. The result is a more precise and, therefore, more comfortable fitting denture. They are more expensive than a standard denture, but they provide added comfort and security.
With new dentures, you can look forward to eating, speaking, and chewing without pain or the fear of your dentures coming loose. 
We work with our patients to find a solution that also works with their budget. We understand that dental implants aren't a financially feasible option for everyone, but dentures offer an affordable and effective alternative for most patients. 
Are you ready to learn more about our denture services? Schedule a free, no-obligation consultation today.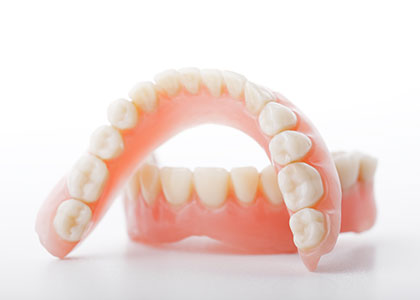 Denture Cleaning
Easy steps to keep your dentures clean
Your dentures require daily cleaning the same way natural teeth do. In addition to keeping your dentures looking their best, this also helps you protect and maintain your oral health. Without proper care and cleaning, tartar, plaque, and bacteria can gather on your dentures and also harm your existing teeth and other oral tissues.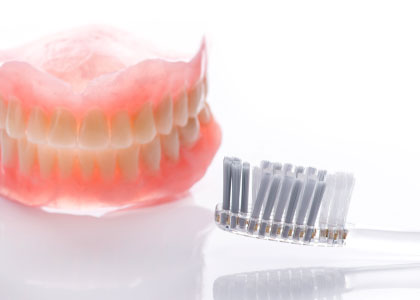 Follow these simply steps each day for denture cleaning to keep your natural teeth and dentures at their best:
Remove your dentures from your mouth and rinse them with clean water to dislodge any sticky food particles.

With a soft toothbrush or a denture brush and a mild soap or denture cleaner, gently brush the dentures. Other cleaners should not be used because they can be too abrasive and result in damage to your denture. 

Rinse your dentures well after brushing.

Before placing your dentures back in your mouth, clean your gums and your natural teeth with a soft, wet toothbrush and fluoridated toothpaste.

If a toothbrush is too tough on your gums, wrap a soft, wet washcloth around your fingers and rub it gently over your gums.
What does a denturist do?
Denturists are health care professionals who focus and specialize in providing denture care to the public. Their services include examining patients who are missing some or all of their teeth, as well as designing, constructing, repairing, and altering dentures. 
Is a denturist a doctor?
Denturists are not doctors. They are dental health care professionals who work in conjunction with other oral health care providers, including oral surgeons and dentists.
Is a dentist and a denturist the same?
No, denturists and dentists are not the same.
Denturists receive highly specialized training for the aesthetic design, creation, care, and application of dentures. They will assess your oral situation, and perform the necessary clinical procedures, and create your dentures themselves.
On the other hand, dentists work with a wide range of patient needs rather than focusing specifically on dentures.
Denture Clinic Edyta Foltyn DD
We Will Bring Our Professional Denture Services to You.
We are proud to serve the Brampton area as experts in the latest denture treatments, procedures, techniques, and quality products.