Partial Dentures to complete your smile
Whether you're missing one or several teeth, partial dentures can provide an effective, removable solution to give you a natural looking smile and the comfortable fit you want. These dentures can restore your confidence, but as Edyta Foltyn will tell you, dentures are more than just an aesthetic solution.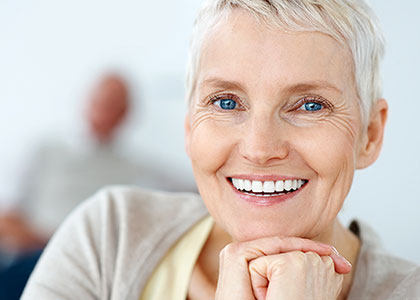 The form and function of your jaw can be improved with partial dentures. Once your bite pressure shifts due to missing teeth, your other teeth may begin to compensate for this extra space. With partial dentures in place, the proper form and function of your teeth and jaw can be restored. Thanks to partial dentures, you can have an easy and cost-effective option for improving the look of your smile and your ability to eat and speak. 
Do you have questions about how long partial dentures last, if they're right for you, or any other questions? We look forward to providing you with answers to all of your questions during a free, no-obligation consultation at our denture clinic in Brampton. Contact us today to learn more.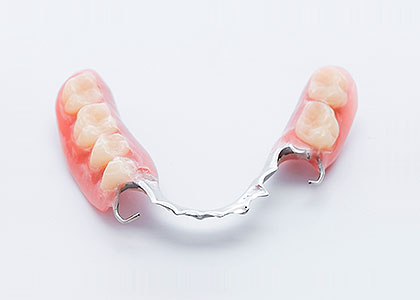 What is the cost of partial dentures?
The cost of partial dentures depends on many factors, including if you would like a standard acrylic denture, standard metal framework, Precision Dentures, immediate dentures, or overdentures. The quickest way to get a specific detailed price estimate is to book a free, no-obligation consultation at our denture clinic in Brampton or have us come to you.
What is a partial denture?
Unlike permanent dentures on implants, partial dentures are a removable denture option with one or multiple artificial teeth attached to a base. This base is made in a colour that matches your gums for an aesthetic solution. Partial dentures may be used for a patient when a bridge isn't an option because they do not have the necessary teeth for supporting a bridge or if a bridge is not in their budget. 
How does a partial denture work?
Partial dentures are removable denture teeth attached to a pink plastic base. This base is connected to a metal framework that clips securely into the mouth.
Can you chew with partial dentures?
For most first-time partial denture wearers, eating and chewing can feel awkward at first. Over time, they begin to gain confidence wearing their denture, as well as eating, chewing, and speaking with their denture in. We encourage new denture wearers to focus on starting with soft, easy-to-chew food and cutting it into small pieces. Eventually, they may begin to experiment with more difficult foods. Just remember, very sticky or chewy foods may always pose a challenge for denture wearers.
How long do partial dentures last?
For most patients, the healthier their remaining teeth and gums are, the longer their partial dentures will last. Dental tissues will change overtime, which means partial dentures may need to be altered, replaced, or relined to work well and fit comfortably.
Denture Clinic Edyta Foltyn DD
Whether you're missing one or several teeth, partial dentures could be an effective solution for you. Contact us today to see if partial dentures are ideal for you.
We are proud to serve the Brampton area as experts in the latest denture treatments, procedures, techniques, and quality products.